Hinkletown Mennonite School
Hinkletown Mennonite School is a private school in Ephrata, PA that serves over 240 students. The school was founded in 1981 and has grown and changed a lot since then. One constant has been their gym floor, which was 34 years old by the summer of 2019. Hinkletown had been wanting to replace the flooring in their gymnasium for several years. In 2019, they were finally ready to begin their new gym floor installation.
Hinkletown chose Abacus Sports, not only to install their new Pulastic sports floor, but to remove their old tile floor as well. This process included not only the removal of the tiles, but the complete modification of the subfloor.
Abacus first demolished the previous floor. We then placed a barrier that protects against moisture damage from below the gym floor to ensure a long-lasting finished product that requires little-to-no repairs in the future. Abacus then finished subfloor preparation with a self-leveling cementitious underlay. This underlayment created an even surface to install the floor on.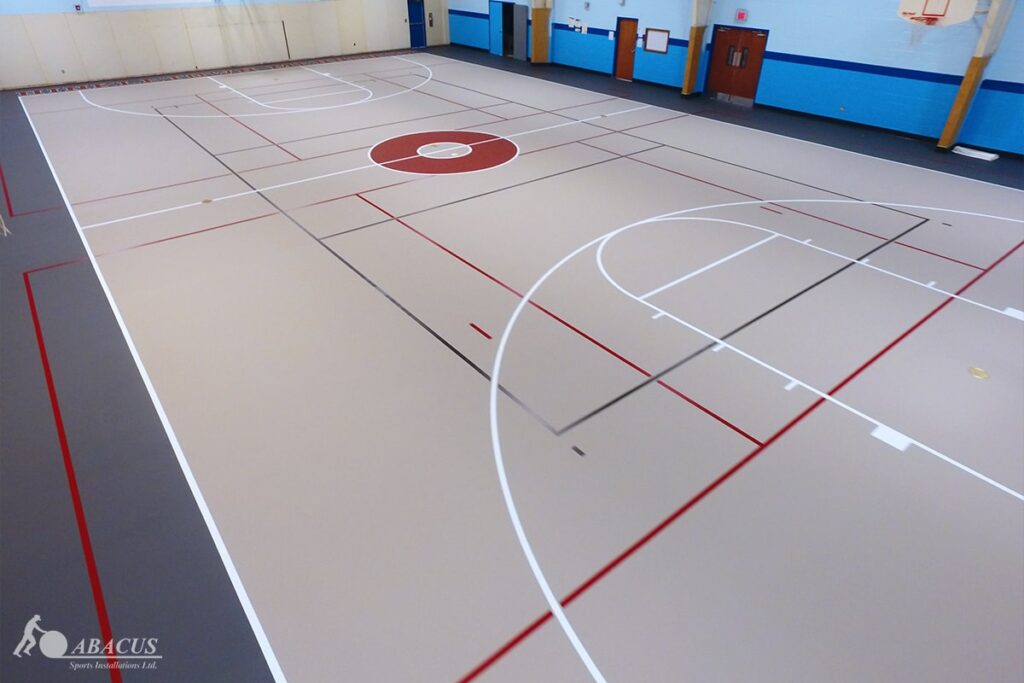 Abacus began installing Pulastic® by Robbins Sports Surfaces once the cementitious underlay dried. The installation process began with the placement of a rubber base-mat. This creates a cushioned and comfortable layer of the sports floor that eases pressure on joints and helps to prevent injury during play.
Abacus then applied a scratch coat and self-leveling urethane topcoat. This forms a completely even and consistent playing surface, which is something the old tile floor could not provide.
As for design, Hinkletown opted to go with one of their school colors, ruby red, combined with two shades of gray. The same red was used as the game line color for two auxiliary basketball courts. Their main basketball lines are white, while their volleyball lines are black. They also wanted their school name printed on each end of the court. "Hinkletown Mennonite" is written in red behind each endline, creating a custom touch for this gym floor.
In just a few weeks, Hinkletown's 34-year-old generic tile gymnasium floor turned into a fully customized, safe, high-performance sports floor. Hinkletown has been looking forward to this for a very long time, and we know that they'll love their new gym floor for years to come.
Get Pulastic for your gym: