What Does a Gym Floor Cost?
Gym Flooring Cost
How much does a new basketball court floor cost? Anyone building a new athletic facility or renovating an old gymnasium asks that question for good reason. After all, every project has a budget and most include more than just gym flooring. So, understanding flooring cost is essential.
Notice we used the word "understanding" in the previous sentence. Understanding the cost of gym flooring means knowing more than just the price tag. So how complicated can it be? Here are a few factors other than sticker price that you don't want to overlook.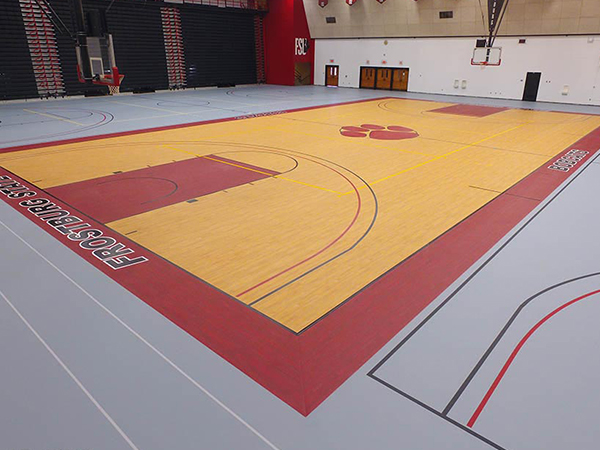 1. Maintenance costs vary by gym flooring type.
Low upfront costs can be enticing, but it could mean paying more in the long run. Of course, all floors need a good cleaning routine, but certain gym floors have specific needs. A wood basketball court needs occasional sanding and refinishing. Polyurethane might need a recoat from time to time. VCT is a prime example of a low price tag with hidden maintenance costs, because it requires frequent waxing and refinishing. If you are tempted to install a VCT gym floor, be sure to read the next section.
2. Not all floors are sports floors.
Testing standards like ASTM F2772, EN 14904, and DIN 18032 define floors that are appropriate for sports. A real gym floor meets these standards. ASTM F2772 for example, guarantees that gym flooring has shock absorption, ball rebound, surface friction, and uniform vertical deformation. Without these properties, a surface should not be used as a basketball floor or for any other sport.
To put a fine point on the matter, VCT and carpet are not sports floors. However, they do end up as a gym floor on occasion. This usually occurs when the only consideration is budget. Low cost aside, these non-sports surfaces are a disservice to young athletes because they are not designed for physical activity.
3. Facility conditions influence installation cost.
Materials are only a portion of gym flooring expenses, and on-site conditions can play a role in determining the overall installation cost of a new basketball court floor. For instance, a concrete slab might have high relative humidity, which could require vapor barriers or special adhesives. Uneven subfloors could require a self-leveling compound or surface grinding. These sorts of conditions vary with each facility, making precise cost estimates difficult without an inspection.
Gym Floor Cost Estimate

| Gym Floor | Sports Surface* | Initial Cost | Maintenance Cost |
| --- | --- | --- | --- |
| Vinyl | Yes | | |
| Polyurethane | Yes | | |
| Maple Hardwoods | Yes | | |
| Combination System | Yes | | |
| Vulcanized Rubber | Yes | | |
| VCT | No | | |
| Carpet | No | | |
*recognized as a sports surface according to performance standards such as ASTM F2772, DIN 18032, or EN 14904.
Here's the bottom line.
The factors we have mentioned here are key to understanding gym flooring costs and making informed decisions. Even though there is a lot to consider, the chart included here provides some relative measures of initial costs and maintenance costs of typical gym floors. Here are some common comparisons among floors, particularly those available from Abacus Sports:
---
Vinyl Gym Floors vs. Polyurethane Gym Floors
I general, a vinyl basketball floor is slightly more that a poured polyurethane floor, but that isn't true in every case. Both vinyl and polyurethane are available in multiple thicknesses. Our Omnisports vinyl ranges from 3.5mm to 12mm and our Padenpor polyurethane ranges from 6mm to 11mm. If you were to compare an Omnisports 3.5mm to an 11mm Padenpor system, the general assumption we made earlier about cost may not hold true.
Key Differences Not Related to Cost
Polyurethane is seamless, while vinyl gym floors have subtle heat welded seams.
Vinyl is a rolled flooring material and polyurethane is field constructed, meaning is is poured on site.
Polyurethane is somewhat better for multipurpose areas when compared to hardwoods.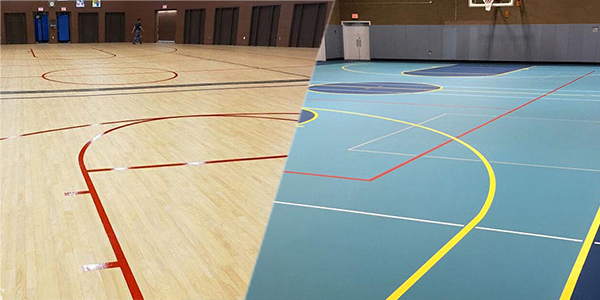 ---
Polyurethane Gym Floors vs. Maple Hardwoods
Polyurethane gym flooring is generally less expensive than maple hardwood floors. This fact usually holds true even when comparing different thicknesses of polyurethane to different hardwood systems. For example, our Padenpor 11 mm polyurethane might be comparable to our Bio-Cushion Robbins basketball court. However, polyurethane and maple hardwoods are very different gym floors in terms of performance. Here are some key differences.
---
Vulcanized Rubber Floor vs. Other Resilient Floors
Vulcanized rubber floors are more commonly found in weight rooms, but there are some circumstances where it makes sense in a gym. Vulcanized rubber is typically spike and skate resistant. That makes it worth considering for areas where spikes and skates are common.
---
Combination Systems vs. Everything Else
Combination systems are considered the pinnacle of gym floor performance, so they will understandably cost more than other sports flooring systems on our list. They consist of a resilient surface of vinyl or polyurethane over an area-elastic subfloor. The result of this merger of materials is high shock absorption, perfectly uniform sports properties, and easy maintenance.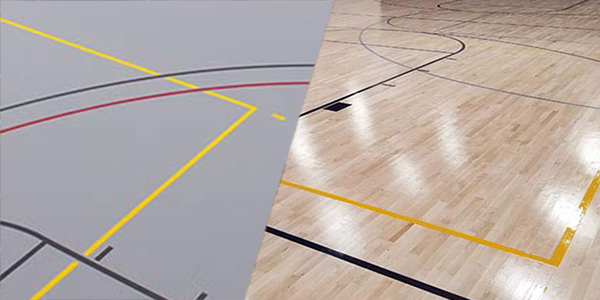 ---
Have more questions about gym floor costs? Contact us.
If you are serious about getting the right gym floor for the right price, reach out to our team of experts at Abacus Sports Installations. We can help you evaluate your gym flooring needs so you get the most out of your new basketball court.