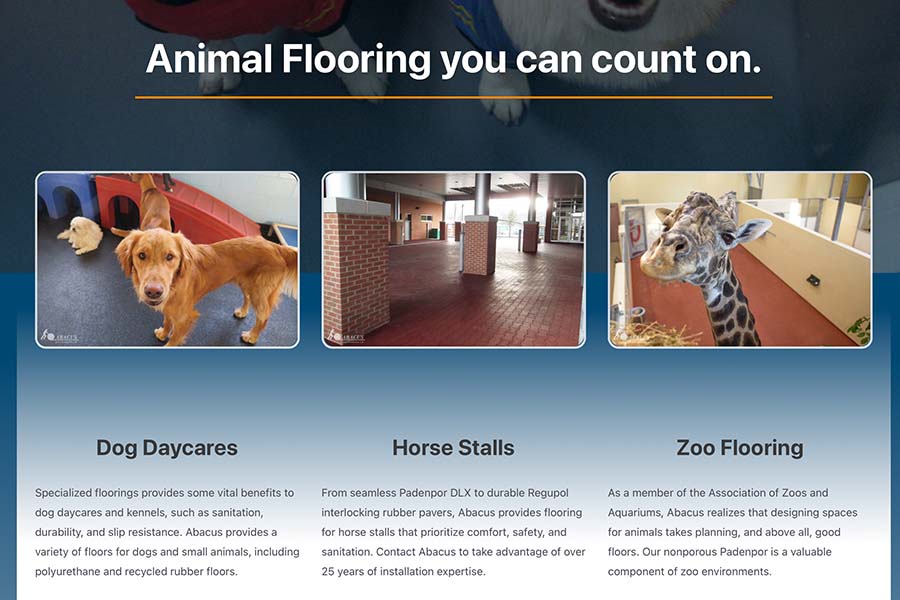 Did you know that Abacus Sports Installations has launched a new website dedicated entirely to animal flooring? Just like athletes, animals need specialty floors that combine comfort and safety. But unlike sports floors, animal flooring must endure heavier weights, more abrasions, and more frequent cleaning. So despite the similarities, animal flooring needed its own home.
Abacusanimalflooring.com has indoor and outdoor surfaces for animals of all kinds. There are rubber, turf, and Padenpor floors for dog daycares, plus interlocking rubber pavers and mats for horse barns and stalls. There is also a section dedicated to specialized zoo flooring, like Padenpor, that meets the unique challenges of larger animals like elephants and giraffes.
Although the abacusanimalflooring.com is new, Abacus has been installing animal flooring for decades. We have become known throughout the United States as a preferred supplier and installer of animal surfaces. Abacus has installed floors at the University of Tennessee, the Honolulu Zoo, the Cheyenne Mountain Zoo in Colorado, and many more. We invite you to see for yourself the range of products and services that Abacus provides animal facilities nationwide at abacusanimalflooring.com.