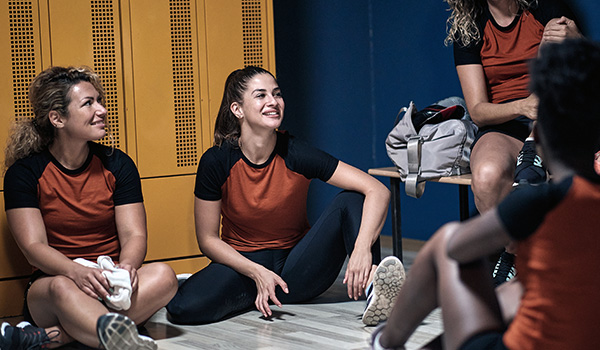 Coaches know that a cohesive team culture can lead to dominance on the court or on the field. When players understand and respect each other, they perform better as a team. That camaraderie can even outmatch more talented competitors that lack cohesiveness.
Team culture is special because no one really knows how it develops. It is a mixture of personalities and playing style that changes from season to season. We don't know the exact formula for team culture, but we do know a couple of ingredients: space and time.
Players need a comfortable space to interact and time to get to know one another. Most player interactions occur on the court, but "off the court" interaction is just as important. That's where good locker room design comes in.
Locker rooms can provide the comfortable space players need to get to know one another outside of passing drills and sprints. Amenities like custom lockers with logos emphasize a team identity. Cushioned flooring and furniture can make the locker room a gathering space where players are not hurrying to leave.
Of course, all of these things may not create your team's culture. No one can do that. But, a comfortable locker room space provides the conditions for a cohesive team to develop. If you're interested in giving your team the best chance of success on and off the court, contact Abacus Sports Installations and let us help you plan a one-of-a-kind locker room.